Computer Combat
A downloadable game for Windows
IS YOUR COMPUTER READY FOR COMBAT?
Battle between other players in real time to test who's computer is ready for combat in this multiplayer match three deck building strategy game,
Basic Gameplay
How does one battle software and computers in a match three deck building puzzle game? Read below to find out!
Components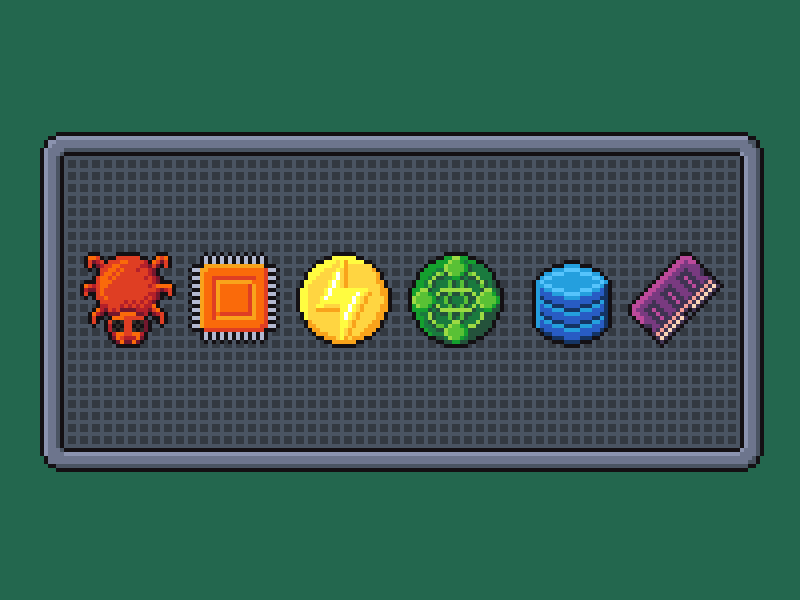 Components are tokens on the board in which players match on their turn, representing different aspects of a computer that a software might use:
The CPU Component (Orange) represents a software needing processing power from the computer.
The RAM Component (Purple) represents a software needing temporary memory.
The Storage Component (Blue) represents a software using the computer's digital storage.
The Network Component (Green) represents a software using a computer's internet connection.
The Power Component (Yellow) represents a software using a computer's power.
The Bug Component (Red) represents a computer having bugs withing it's softwares.
The Board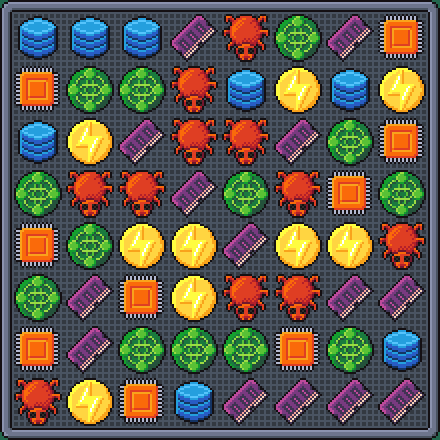 The board is an 8 by 8 grid filled with components. Matching 3 or more in a row will claim the components as yours and spawn new components on the board. Components are all equally likely to appear on the board, except the Bug component it is 3 times as rare compared to other components. Matching Bug Components will cause your software to attack the opponents software and computer. Matching other components with affect your software in a multitude of ways.
Software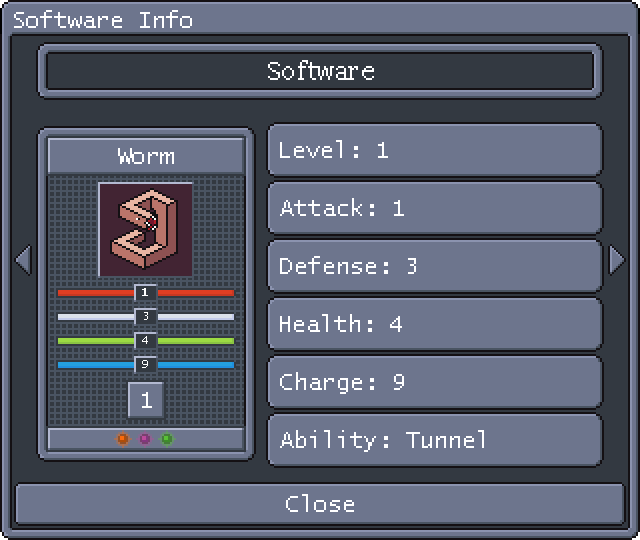 Software Cards are units that run on your computer. They are the main source of action within the game and can alter gameplay, strategy, and risk within a match heavily.
Each software has a few attributes that define how it interacts with other software, their attacks, and the components on the board.
Attack (Red) : How much damage the software does to opposing software and computer.
Health (Green): How much remaining damage can be taken from other software before being destroyed and eliminated from the game.
Defense (Grey): How much remaining damage can be taken from other software before damage is applied to the software's health.
Charge (Blue): How many matching components have been collected to make the ability of this software usable.
Each player starts out with zero software running. A software must be spawned using the player's computer ( more info below ).
Abilities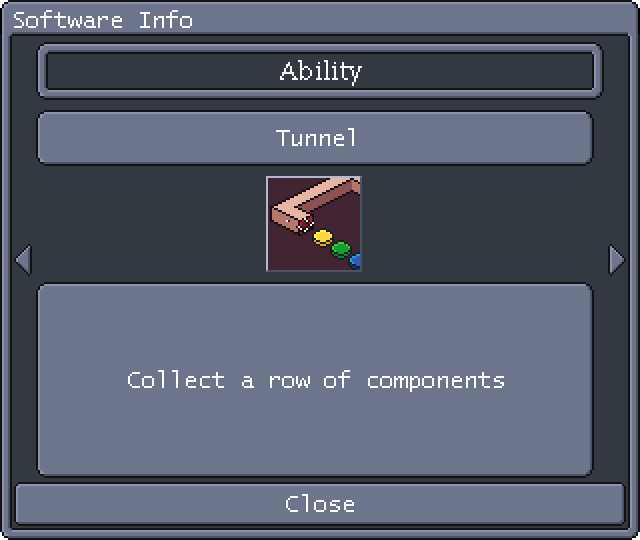 Abilities are very important and powerful in Computer Combat battles. Abilities are used as a player's turn and they can affect the battle in many ways:
Alter the components on the board
Alter ally or opponent software
Give extra turns
And Much More.
Abilities are so powerful and useful with many many purposes that they require charge from matched components to be used.
Charge
Each software has a maximum charge amount. Player's match components on the board to charge up a software to this maximum charge. If it is a player's turn they can consume this charge to apply the ability's affects on the current battle.
However, each software has required components to charge their ability. Some software use more than one component type to charge their ability. For example, the Virus and Random Number Generator software ( shown above ) only use CPU components to charge their abilities. ( As shown by the small LED light at the bottom of the card ).
Collected components go towards the top most software's ability charge that uses the collected components' types. Collected components that would go towards a full software's charge instead goes to the next applicable software.
Computer
The computer stays at the bottom of a player's software. It has only two attributes, charge, and health.
Any collected components that do not go towards a software's ability charge instead go towards computer charge. Once a computer has enough charge a player can use the computer's ability much like a software. A computer always has the same ability between players, to spawn and start running a new random software from the player's built software deck.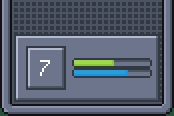 A computer missing health and charge with 7 cards in its deck
Deck Building
Earn Booster Packs to collect cards from all different card collections in Computer Combat to create the best deck imaginable.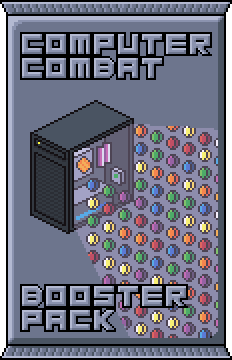 Build a custom 8 card software deck to face your opponents with top-of-the-leaderboard winning strategy. With unlimited deck creating you are able to explore decks that dominate the meta game or find potential in different unexplored deck strategies.
Live Multiplayer Matches
Battle against other players in real time to see who's computer, and software decks are supreme. Rise up in ranked leader boards to show off your perfect match-three strategy skills or play casually to practice your skills or newly acquired software ready to fight.
AI Bot Building
More information coming soon!
Raids and Defensive Offline Matches
More information coming soon!
Bot vs. Bot Matches and Tournaments
More information coming soon!
Features and Game Development Status

- Sign-up and Login ( Complete )
- Player Collection Viewing ( Complete )
- Deck Management ( Complete )
- Live Matches ( Complete )
- Ability + Software Creation ( Complete )
- Card Upgrade ( To-Do )
- Card/Ability/Pack Viewing ( To-Do )
- Ranked vs Casual Matches ( In-Progress )
- Leaderboards ( To-Do )
- Public Match Data API ( In-Progress )
- Raids and Defensive Matches ( In-Progress )
- Bot AIs ( In-Progress )
- AI Bot Building ( In-Progress )

Download
Click download now to get access to the following files:
computer-combat-win-stable.zip
17 MB